How would Northwestern respond to a week of pats on the back, a defensive revival and, most importantly a win?
Pat Fitzgerald kept the team level-headed and kept up the kick in the pants that followed the sluggish 1-2 start. Still, it was tough to see this team completing this 180 degree reversal again. Unless the first three games were the reversal and the Penn State game was the true Northwestern.
This is getting into some crazy geometry that I am not willing to get into right now (sorry, I was a journalism major, I skipped out on the math classes at NU).
What we do know is that Northwestern could put in that performance again. Relying on another young player to step in with big plays and another overall solid defensive performance. The Wildcats took the lead and did not let go. They controlled field position and kept Melvin Gordon in relative check — don't let the gaudy yards gained confuse you . . . the Wildcats made the Badgers completely one dimensional.
Northwestern won the game where it mattered, intercepting Wisconsin four times including twice in the end zone. The offense moved the ball and kept field position in its favor. The Cats took advantage when the iron was hot. And, despite some conservative play calling at the end of the game and a two-possession lead, Northwestern went out and took the win. Give NU a 20-14 win over Wisconsin and the team's first 2-0 start to Big Ten season since 2000 — you know, the last time NU won a conference title.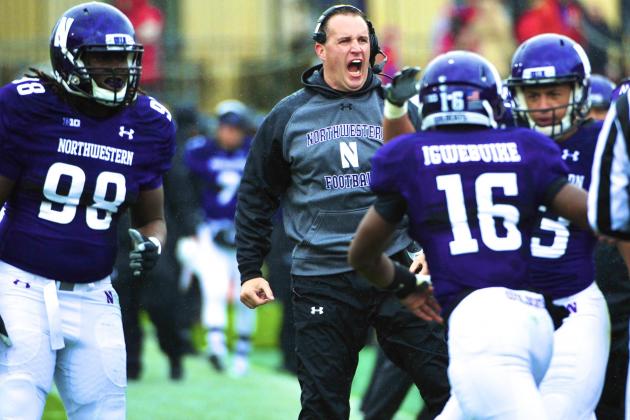 Of course, Pat Fitzgerald is not ready to pat anyone on the back. There were still plenty of things to clean up on both ends of the ball. Melvin Gordon DID rush for 259 yards on 27 carries. Much of that came on three carries — a 58-yard run on his first carry in the first quarter, a 61-yard run in the third quarter which helped set up Wisconsin's first touchdown and a 31-yard run — as Gordon got to the outside and broke containment. But either Traveon Henry or Nick VanHoose ran him down before he could score. Gordon was largely bottled up.
And he remained the Badgers' only real option offensively. Wisconsin was truly one dimensional with both Tanner McEvoy and Joel Stave struggling to throw the ball consistently.
McEvoy threw a pick in the end zone to Godwin Igwebuike on the opening drive, becoming a theme we will keep coming back to. McEvoy was just 4 for 10 for 24 yards before being pulled in the first half. McEvoy seemed capable of handing the ball of to Gordon enough times for him to get tired and then fail to move the ball with Gordon off the field and in third-and-longs. The Wildcats had that strategy down.
So in came Joel Stave. Stave fared only a little better. He had one pass intercepted by Jimmy Hall when Ifeadi Odenigbo bullrushed his blocker and reached out and affected Stave's throw. That set up a double reverse to Miles Shuler which gave NU a 17-7 lead, and some much needed breathing room with the Wildcats struggling.
Stave was running for his life on several occasions. He threw another interception in the endzone to Igwebuike as defenders chased him out of the pocket and his throw to a tight end on a crossing pattern fell way short. He had another pick to Igwebuike which sealed the game as Wisconsin had about 30 seconds to go 80 yards as Northwestern finally figured out the right way to eat up clock after a three-and-out gave Wisconsin life and led to a touchdown to give us the final score.
Stave finished 8 for 19 for 114 yards and those three critical interceptions.
Once again, Northwestern was creating opportunities on defense and dictating play. The Cats contained Gordon except for those three big runs (none leading to touchdowns) and made the Badgers completely one dimensional. Even with a great back like Gordon, that is an incredible accomplishment. As the game wound down, NU knew it just had to hold on long enough to force Wisconsin to pass the ball.
The Cats did that — although it looked shaky for a while with some very conservative play calling in the fourth quarter. Northwestern went three and out on back-to-back drives to allow Wisconsin within a touchdown and make us all sweat. One final nice drive with Justin Jackson and a big third-and-two play action call with Trevor Siemian connecting with Dan Vitale (the kind of aggressive playcalling so many have been begging for in these situations) took off enough time and put Wisconsin too far behind the chains without the run as an option.
That is where NU wanted Wisconsin all along.
The Wildcats did enough offensively, taking advantage of the good field position and sustaining enough drives to score. Siemian connected with Vitale for a five-yard pass to complete a 15-play, 80-yard drive to give NU a 10-0 lead and take complete control of the game. The rest seemed to be managing field position and making sure Wisconsin started as deep as possible.
Justin Jackson helped most with that, seemingly willing to match Gordon run for run. Maybe not run for run, but Jackson was as good and consistent as Gordon throughout the day. Jackson rushed for 162 yards on 33 carries. Give him a gameball for his first 100-yard rush. Hope that will be the first of many.
This all paced the Wildcats for the majority of the day, keeping them in control and giving the defense some time to rest and regroup for the next bout with Gordon.
So long as the offense did not make turnovers or any critical mistakes and scored some points, they could take advantage of the aggressive way the defense played throughout the day.
For the second straight week, NU was aggressive defensively and dictated the tempo their. The Cats took control of the game this way, forcing the Badgers to play to their weaknesses by controlling and bottling up their strengths. There were mistakes made, but no fatal mistakes. That is the big difference between this defense and the one we saw earlier in the season and even a few years ago.
It just feels weird to be saying this after the first three weeks of the season and where the team was at those low points. Time to let it keep rolling.